About A.M. Botte

We live and work by these principles and believe it is what sets us apart from other HVAC companies. A.M. Botte Mechanical is a South Jersey heating and air conditioning (HVAC) contractor in Sewell, New Jersey, that serves the Residential HVAC needs of clients throughout South Jersey and the Commercial HVAC needs of clients in the Tri-State area.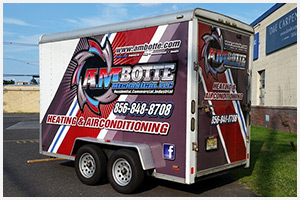 At A.M. Botte, we firmly believe that honesty is, in fact, the best policy, and we work hard to make sure that we provide just that. Our commitment to providing quality HVAC services and our dedication to telling you exactly what is going on is what has given us our reputation in South Jersey as one of the best.
When we started our business 18 years ago, we knew we wanted to be different. By refusing to cut corners and offering customers only the services they need, word quickly spread that we had achieved our goal by being consistent and reliable in an industry that is frequently not.
A.M. Botte provides only the best in both residential and commercial HVAC services, so we know that we can guarantee our workmanship for a lifetime. Fully licensed, with up-to-date knowledge of all of the most recent, cutting-edge technology, and a staff that is passionate about what they do, it's easy to see right away why we have the reputation we do. We are happy to provide you with an evaluation of your current system and a free estimate on any work we may think needs to be done.
Always honest, ready to serve, with service technicians who are some of the best in the industry, we serve all of the greater West Deptford area, Woodbury, Mantua Township, Gloucester Township, Sewell, Paulsboro, Gibbstown, Oak Valley and more.
Find out why so many have chosen us and become the next satisfied customer by scheduling your free estimate.